Tourism industry adds a huge part to the economy of the country. Globalization plays an important role in bringing the world really close together.
What is tourism Industry ??
It could be defined as a group of small firms which deals in providing attractive and budget-friendly holiday packages to its customers either within a state, country or internationally.
Now people sitting miles away could check out any destination and plan their whole vacations online as every sort of information is available online.
With the whole of very easy and really sorted system, travel and tourism industry have acquired a great pace instantly.
Tourism is when individuals go out to travel destinations outside their home for relaxation from every day's common schedule and same lifecycle and to enjoy moments of some amusement and fun with their loved ones and spend some family time together.
It's for one's pleasure and could be some business tour or some other purposes. Tourism can be an International tour as well as within one's own country.
Kerala in India is famous Worldwide for its tourist deTheretions. Their are various different kinds of Tourism_In_India.
Travel and Tourism industry incorporates many other industries as well like transportation services, entertainment industry etc.
Top 20 Most Popular Tourist Destinations of the World: –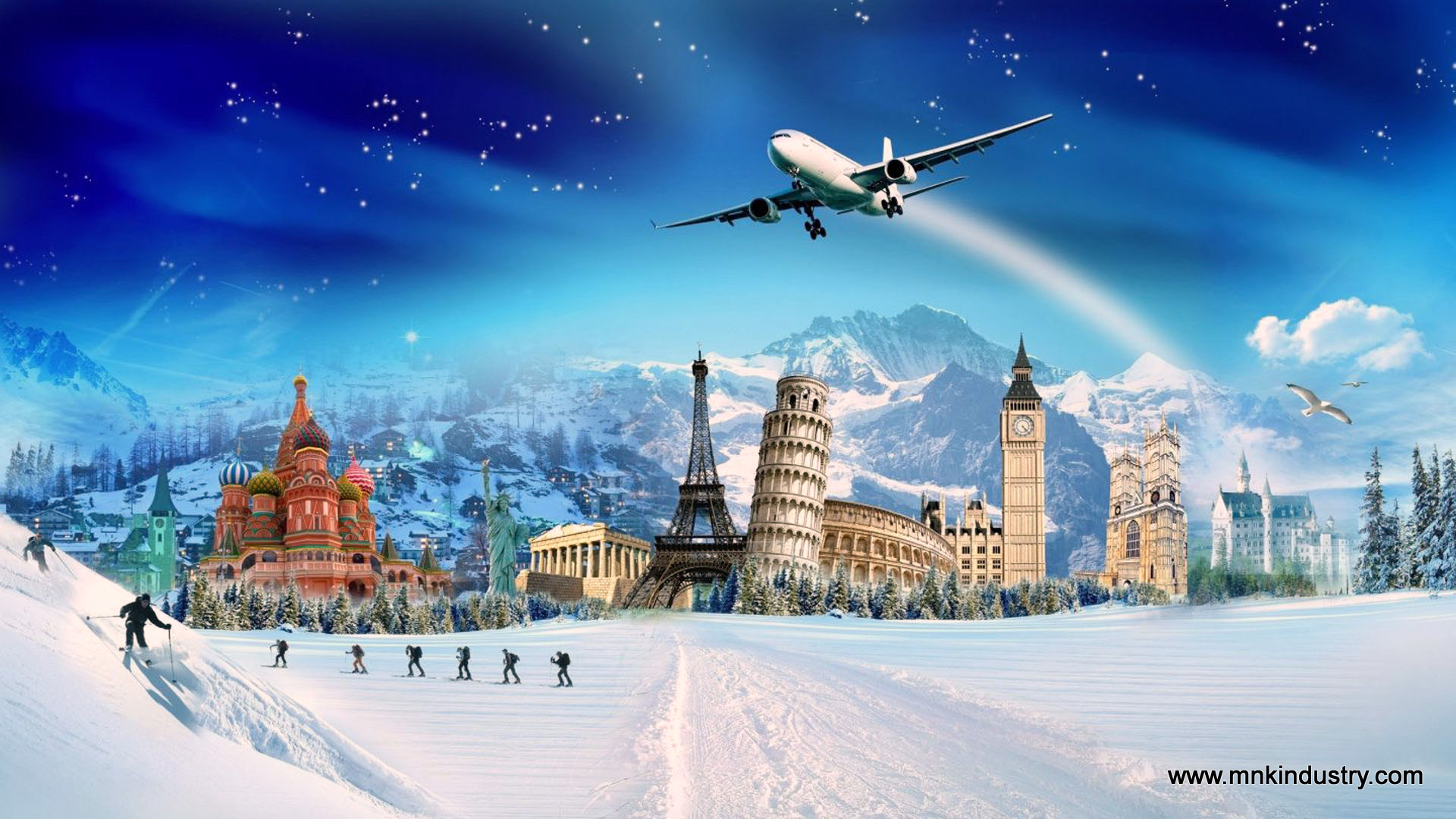 Prague, Czech Republic
Shanghai, China
Vienna, Austria
Osaka, Japan
Rome, Italy
Taipei, Taiwan
Milan, Italy
Amsterdam, the Netherlands
Barcelona, Spain
Hong Kong, China
Seoul, South Korea
Tokyo, Japan
Istanbul, Turkey
Kuala Lumpur, Malaysia
Singapore
New York City, USA
Dubai, United Arab Emirates
Paris, France
London, England
Bangkok, Thailand
Statistics of travel and Tourism Industry
Travel and Tourism industry is one of the largest industry in terms of economic earning.
7.6 trillion USD was the contribution by industry in 2016.
2.33 trillion USD was the earning from all hotels, travel, entertainment, transportation and other attractions around.
Market size of online domestic air segment is set to jump from $2.7 billion in 2015 to an estimated $6 billion by 2021.
Online booking of domestic hotels which is set to explode: from $1. Billion in 2015 to $10.1 billion in 2021.
Tourism industry saw an exponential growth of international tourist from 529 million in FY 2005 to 1.2 billion in 2015. 2 billion is the estimate by 2030.
Europe is one of the most visited tourist destinations in the world. About 607 million international footfalls were there in 2015.
Net revenue of international tourism reached 1.26 trillion USD in 2015.
Largest expenditure was done by Dubai visitors more than 31.3 billion USD.
(WTTC) World Travel and Tourism Council is the global organization that binds the global leaders in Travel and Tourism industry and enable them to discuss with government and international bodies.
Best Travel and Tourism Companies in the World
Expedia Inc
Priceline Group
American Express Global Business Travel
Carlson Waqonlit Travel
BCD Travel
HRG North America
FC USA
American Express Travel
Travel Leaders Group
Fareportal/ Travlong
AAA Travel
Corporate Travel Management
Travel and Transport
Altour
Direct Travel
World Travel Inc.
Omega World Travel
Frosch
JTB Americas Group
Ovation Travel Group
World Travel Holdings
ATG Travel
International Cruise & Excursions
Vision Travel Solutions
Adelman Travel Group
Travizon
Christopherson Business Travel
com
Worldview Travel
CorpTrav Management Group
I.S. USA
TravelStore
Valerie Wilson Travel
Fox World Travel
Avoya Travel
Cruise Planners, an American Express Travel Representative
Professional Travel
Travel Experts
Short's Travel Management
Global Crew Logistics
Montrose Travel
Travel Planners International
UniGlobe Travel Partners
Kintetsu International Express
Balboa Travel Management
Atlas Travel & Technology Group
Click Travel
CI Azumano Travel
The Appointment Group
Gant Travel Management
Some shocking and head blowing facts of Tourism Industry you must be aware of: –
Travel and tourism industry is the greatest in terms of foreign exchange as it is a global industry and provides employment to millions of people.
The basic role of the one working in the industry is to provide the complete dossier of the travel destination. Provide services to people traveling for business, amusement, adventure or sightseeing in terms of everything from starting the tour with tickets booking till the end of the tour.
Personal interactions of the employees to their clients is the necessary part in the field to make their clients comfortable and they could better understand their needs and requirements and provide best services to make them their permanent customers.
The industry covers both governments as well as private bodies. Government bodies cover government tourism departments and private includes major multinational companies and few small-scale travel agents working from small shops in the various part of the companies employing 4-5 employees.
Top 20 Travel and Tourism Companies in India you could rely on: –
Make My Trip
Emirate Tours and Travels
Expedia
Skyspeed Tours & Travel Company
ITS Travels and Tours
Discovery Travels and Tours
The Great Indian Tour Company Pvt Ltd
Cleartrip
Heena International Tours and Travel
Travel Guru
Balaji Tours and Travels
Raj Tour and Travels
Goibibo
Yatra
Forex Tours and Travels
SOTC Tours and Travel
Akbar Travels of India Pvt Ltd
Thomas Cook Ltd
India Tourism Development Corporation Ltd (ITDC)
Cox & Kings Ltd